Now Open in our Newly Renovated Space!
Your favorite credit union staff moved into our newly renovated location over the weekend of January 10. We haven't gone far! The Credit Union of Vermont is located next door to its old office space. Our phone and mailing address have not changed. While the old offices served us well for the last ten years, additional space was needed. Stop in to see us and we think you will agree that it looks terrific and that it will better serve our members.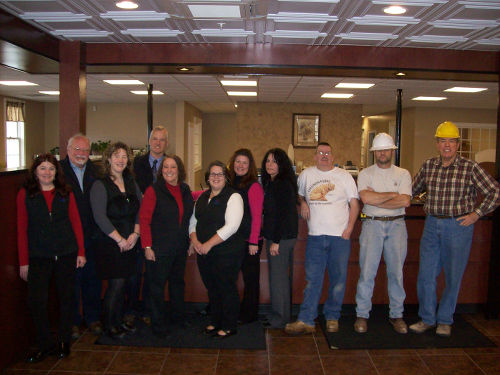 The look may be new, but our commitment to taking care of our members remains strong. Your credit union staff is well-trained and empowered to go the extra step to help meet your needs. After all, we're not a bank, we are the Credit Union of Vermont. THE credit union for all Federal, State, School, Municipal, and County Employees as well as all family members.
Online Tax forms - Now available!
We are pleased to announce our credit union members can now access their IRS tax forms via our Private Branch-24 (PB-24) secure internet banking system. Just log on to PB-24, select statements, and using the drop down box select the form you wish to retrieve. Available forms include 1098, 1099C, 1099I, 1099M, 1099O, 1099Q, 1099R, 1099S, 5498, 5498E, and 5498S.
While tax forms were mailed to our members via the US Postal Service, we hope this added availability will be a valuable service to you, our member-owners. As always your favorite credit union staff are available to assist you, and thank you for being a member of the Credit Union of Vermont.
5-STAR Rating EXCEPTIONAL PERFORMANCE AWARD!
We are proud to once again report and publish our 5-STAR rating, the highest possible rating from Bauer Financial, Inc. the nation's leading independent financial institution rating firm. By earning and sustaining our 5-STAR rating the Credit Union of Vermont has demonstrated the epitome of safety and soundness.  Our prestigious "Exceptional Performance" Status is earned by fewer than 18% of the nation's financial institutions. To achieve this high honor the Credit Union of Vermont has exhibited the best in such areas as capital adequacy, asset quality, and stability, and has done so every quarter since December 1997!
As stated by Bauer Financial, Inc. "No institution pays for its rating, nor can they elude it."  You might be surprised to learn the rating of other credit unions and banks in our area.  To find out visit bauerfinancial.com.
How many STARS did each of the following receive?
Text Message Scam
The Credit Union of Vermont is being targeted by a text message scam. You may receive a text message claiming that your card has been blocked, with a number to call for information. Such messages are false and not sent by the Credit Union. We will never, EVER ask you to give us your credit card information over the phone.
If you receive such a message, you may report it to us, but do not call the provided number and do not give them any of your personal information.
A Message from the CEO
With everyone's concerns about the current economic state, I want to take a moment of your time and make you aware of the Credit Union of Vermont's exceptional safety and soundness. Read more